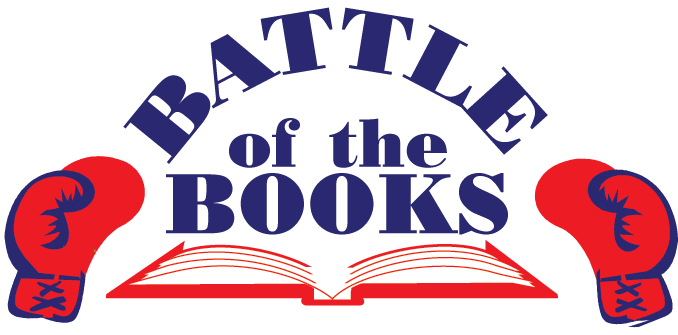 Teen Battle of the Books is underway, so it's time to get your reading skills in shape and come out swinging!!  Get a group of friends together (no more than 5 people per team) and start reading.  In 2016 you and your team will travel over to Quaker Valley Middle School to face off with other teams from Allegheny, Beaver, and Butler counties in a trivia competition that will prove who knows there books the best!  The top 3 placing teams in each battle will receive gift cards, plus there's lot of giveaways and treats the night of the battle.
So if you've got a competitive spirit, love to read, and just want to kick some butt, Teen Battle of the Books is for you! And you don't have to be from Moon to participate... battle participants can come from anywhere.  Moon, Quaker Valley, Cornell, OLSH, Seneca Valley, Montour Propel Charter School, Lincoln Park Performing Arts School, Ambridge, Hopewell, Central Valley, Pine-Richland, and St. James are just a few of the schools who've battled over the years. 
All of the information can be found below, including title lists and registration sheets for each grade level.  If you have any questions or concerns, feel free to get in touch with either Miss Heather at Moon Township Public Library by calling 412.269.0334.  See you on battle night!!
Teen Battle of the Books 2017 Dates
6th Grade Battle: February 28, 2017 @ QVMS Auditorium
7th/8th Grade Battle: March 1, 2017 @ QVMS Auditorium
High School (Grades 9-12): March 7, 2016 @ QVMS Auditorium
Teen Battle of the Books Title Lists
Teen Battle of the Books Registration Forms
7th/8th Grade Registration Form